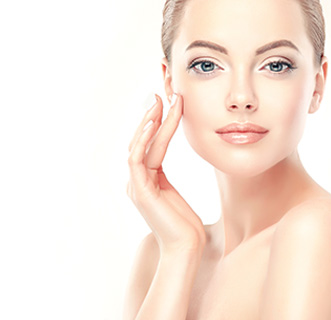 Microdermabrasion with Facial
Microdermabrasion with Facial
$75
Microdermabrasion treatments exfoliate the top layer of the skin manually by pushing and conforming micro-crystals onto your skin at a very rapid rate. The best results come from using a powerful, specialized, medical office-strength microdermabrasion machine like ours.The motion of the microdermabrasion crystals on your skin pulverizes the dry, dead skin cells, lifting them off the stratum corneum. Clogged pore plugs are also pulverized and lifted from the pore openings. The crystals and debris are then vacuumed off the skin, leaving you with a fresh, clean, bright and new complexion!

Adding a microdermabrasion treatment to calming facial increases results and makes your treatment an extended sensual pleasure as well. Pretreating your skin with microdermabrasion allows us to more easily complete your extractions. The finishing facial and mask then calm and soothe the skin. You can't help but leave feeling great with all the pampering and professional skincare products soaking into the deeper layers of your skin. Combining a facial with a microdermabrasion treatment gives you a delightful and therapeutic treatment! A microdermabrasion facial every 4 to 6 weeks is ideal to keep your skin performing optimally 24/7/365! We offer microdermabrasion and a number of different chemical and enzymatic peels to help skin tone, minimize fine lines, boost hydration, and soften skin creating a discernibly smoother texture and tone.

Gently removes the surface layers of the skin, allowing smoother, fresher skin to emerge revealing newer, healthier, younger appearance.

Reduces fine lines and wrinkles
Reduces age spots and pigmentation imbalances
Smooth out scaring
Reduces enlarged pores
Microdermabrasion with Antioxidant Vitamin C Facial
$125
Designed to increase skin elasticity, repair and reverse environmental damage due to sun exposure. The treatment incorporates a vitamin C content from Mediterranean lemon essence, it gives you a mild way to refine, retexture skin and keep the fair brightening tone with natural skin luminosity.

Reduces skin pigmentation Restores elasticity and firmness Prevents skin damage caused by exposure to sun, smog, pollution and stress Helps diminish the appearance of fine lines and wrinkles Helps repair damaged cells and prevent future skin damage. For dry and sun damaged skin.
Microdermabrasion with Collagen Facial
$125
Relaxing facial with extractions and a Lactic peeling to eliminate dead skin cells will get you ready for your collagen gel that acts as an anti-wrinkle and anti-aging. It helps to restore skin tone and improve the tissue elasticity.

Plumpness and transparency firms skin for all skin types, recommended for skin lacking elasticity, wrinkles, and lines.
Microdermabrasion with Detox Facial
$125
This treatment is an excellent choice for detoxifying all skin types. Its active blend of lactic, glycolic and salicylic acids effectively penetrates pores to dissolve imperfections and blackheads, kill bacteria, reduce inflammation and remove excess cell debris to leave the skin hydrated, purified and clear. With its strong antibacterial and antioxidant action, this treatment is a gentle, deep pore cleanser.