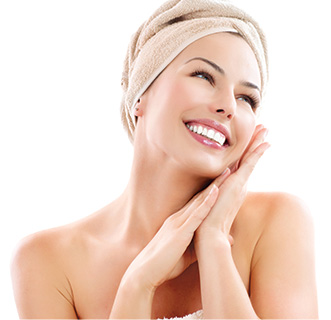 Spa Peels
Eye Peel
$60
For fine lines.
Salicylic Peel
$85
An intensive treatment designed to rapidly exfoliate the epidermal cells, unclog pores and reduce the appearance of lines, scars, and hyper pigmentation. This treatment is recommended in a series for maximum effectiveness.
Biophyto Herbal Peel
$90
This intensive enzyme herbal peel with a combination of Vitamins A, B, C and E as well as salicylic acid and camphor is highly effective in treating a large variety of skin care conditions including damage from acne scaring, hyper pigmentation and/or excessive oiliness.
Aloe Vera Peel
$75
The Aloe Vera Peel is an Alpha Hydroxy Fruit Acid (AHA) blend with natural ingredients that allow this creamy formulation to gently micro-exfoliate the skin and rebalance precious moisture loss. It has the ability to penetrate the upper layer of the skin and helps peel dead skin cells and stimulate new skin cell growth.
Glytone Eye Peel
$80
Significantly increases the skins' firmness around the eyes. Improves the appearance of fine lines, wrinkles, and coarse crow's feet.
Glytone Hand Peel
$80
Reduce the appearance of moderate hyper-pigmentation. Improves the appearance of fine lines, small scars and coarse wrinkles on the hands.
Glytone Neck & Décolleté Peel
$150
Decreases the appearance of fine lines and wrinkles, while improving the appearance of mild hyper-pigmentation around neck and décolleté. The Neck Terminator cream that is applied improves skin firmness and elasticity.
Glycolic Facial Peel
$85
Glycolic Facial Peel quickly and efficiently removes dead skin cells that clog and make skin look dull. Frequent use of our Glycolic Facial Peel promotes circulation and maintains a younger skin texture.
PCA Sensi Peel®
$95
This gentle solution is formulated primarily for ethnic skin, and other extremely sensitive skin types. Sensi Peel® will strengthen and brighten the skin while helping to treat sun damage and other forms of hyperpigmentation.
PCA Peel®
$95
This is a safe and highly effective that has no downtime. This light to medium peel formula is proven to effectively treat acne, control oil, smooth fine lines and also help to inhibit the pigment production providing a more even skin tone.
PCA Peel® with Hydroquinone
$95
This formula is for those who want even skin tone and have no sensitivity to hydroquinone. It will help to quickly lighten pigment discolorations of any kind, such as melasma and sun damage.
PCA Clarifying Mask
$95
Clarifying Mask's blend of 20% salicylic acid with cherry extract and other natural ingredients makes this an ideal choice for helping to improve acne, breakout-prone skin and sluggish, dull complexions.
PCA Detox Deep Pore
$95
This treatment is an excellent choice for detoxifying all skin types. Its active blend of lactic, glycolic and salicylic acids effectively penetrates pores to dissolve impactions and blackheads, kill bacteria, reduce inflammation and remove excess cell debris to leave the skin hydrated, purified and clear. With its strong antibacterial and antioxidant action, this treatment is a gentle, deep pore cleanser.
PCA Oxygenating Trio Peel
$95
This is an antioxidant therapy to correct and prevent free radical damage as oxidative and environmental stress to the skin is one of the more significant contributors to the aging process. This treatment helps stimulate respiration and circulation within the skin. It helps promote healing and rejuvenates sluggish, stressed skin depleted by toxins, pollutants, allergens, improper diet and solar damage. This treatment is also ideal two to three days before a special event.
PCA Back Body Peel
$150
Smoothing Body Peel™ Treatment duo provides nourishing ingredients that soften and hydrate the skin's surface, while TCA, lactic and salicylic acids join together to affect dramatic changes in the skin's appearance and texture.
Rhonda Apple Wine Peel
$125
A variation of red wine vinegar, the Apple Wine Peel is for a more progressive mid-depth treatment to firm and tone your skin. This peel is ideal for aging skin. With regenerating and firming properties, this peel is great for toning, tightening and providing wonderful antioxidant properties to your skin as well.
Rhonda Skin Awakening Peel
$95
For fine lines, dull, uneven texture, sun damage, and uneven skin tone. Renew the look and feel of your skin with the skin awakening peel. Looking to reduce cellular build up and strengthen skin tissue-the skin awakening peel gives skin a brisk exfoliation helping even out texture, fine lines, sun damage and, unhealthy skin tone.
Rhonda Kojic Clay Peel
$125
Great for congested acne skin or hyper-pigmentation. This peel is made of kojic acid, bentonite clay and a deep sea composition that work to increase cell turnover & remineralize the skin, minimize hyperpigmentation, reduce the signs of aging & promote healthy, glowing skin.
Rhonda Sake Peel
$95
This is a blend of two new formulations, the Sake Peel and Vitamin A+ Peel, which is good for all skin types. This peel effectively firms slackened tissue, improves skin tone and texture, minimizes fine lines, balances hydration and sebaceous activity.
Rhonda Hot Tomato Peel
$95
Tomato has many naturally occurring acids and antioxidant – the anti-bacterial benefits make this a specialized peeling for problematic, oily, acne-prone skin. This is amid-depth peeling and the skin will experience mild exfoliation and increased healing.
Glow Peel - "Lunch Peel"
$125
Glow Peel - "Lunch Peel"

Return your face to its soft, supple complexion by renewing collagen and elastin, reducing pores and blending uneven skin tone.
Our peel uses a unique blend of active cosmoceutical ingredients (alpha hydroxy acid (AHA) , Salicylic Acid and papain enzyme), creating one of the safest 15 minute "minimal downtime" peels designed to improve and smooth the texture of the facial skin, strengthens skin tissue resulting in a healthier more alive-looking skin.
Natural Cabernet Peel
$125
CABERNET SOLUTION is a specially formulated chemical free solution that has the power of a chemical peel . Wine as a key Ingredient and antioxidants which will treat dehydrated, mature, wrinkled and sun damaged skin. It will also help treat discoloration and acne. Mild to moderate exfoliation will be experienced. Results are luminous, hydrated, softer and healthier looking skin.
Jessner Peel 4 Layers
$200
Jessner's Peel is a medium strength peel. Jessner's peels can improve upon such skin problems as brown discoloration and blemishes, acne, fine wrinkles, and sun damaged and weathered skin.